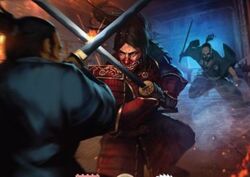 Bayushi Manami was a bushi, yojimbo and paragon of the Scorpion Clan who lived in the late twelfth, early thirteenth century. [1]
Demeanor
Edit
Manami was in heart a man of honor, devoted beyond reproach. Despite it he did not falter when required to commit questionable acts. He was eagerly sought as a husband by many powerful courtiers, but as of yet his value as a yojimbo was too great. [2]
In 1198 Manami met Shosuro Tanzaki in the Second City, to give him a map of the region the courtier was of interest, where it was lcoated the lair of the "Crystal Wind", [3] an slumbering Ashalan. [4]
External Links
Edit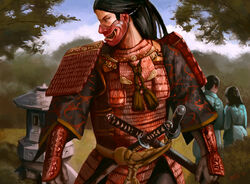 References
Ad blocker interference detected!
Wikia is a free-to-use site that makes money from advertising. We have a modified experience for viewers using ad blockers

Wikia is not accessible if you've made further modifications. Remove the custom ad blocker rule(s) and the page will load as expected.