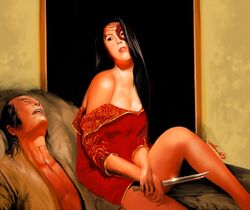 Bayushi Maemi was a Scorpion Clan courtier, bushi and seductress. She was the cousin of Shosuro Ohan.
Early Years
Edit
Maemi was the pride of both her parents as a child. Her father adored her for her beauty and her flawless ability to charm and manipulate others, just as he did in court. Her mother was repeatedly impressed with her speed and nimble fingers, and the skill with which she could wield a knife even when she was very young. The decision as to how the young woman should be trained was a matter of some contention between the two, but ultimately she was sent to study with the family's courtiers.
Distinction was easy for Maemi to attain among her peers, but she did not excel as her parents had hoped. The elaborate deceptions and machinations that her sensei encouraged did not interest her; Maemi was interested in more short term, direct, and to her mind, more effective means of manipulation. After some consideration by her sensei, it was determined that Maemi could best serve the interests of the Scorpion by augmenting her training through other dojo in addition to her training as a courtier.
In the courts
Edit
Bayushi Maemi haunts the halls of influential courts like a silken specter. Countless hundreds have been captivated by her beauty, but honorable men recognize that she is not the sort of company that a virtuous samurai keeps. Fortunately for Maemi and the Scorpion Clan, every court is full of powerful men who can be considered virtuous only in the emptiest of flattery.
She is something of a weapon of last resort for the head delegate of whatever court she has been assigned to. Targets that present no other suitable options, and upon whom the art of subtlety is wasted, become targets for Maemi's unique talents. Most often, she seduces a target and gains the information that the clan requires. On some occasions, she eliminates the target as well, an act that poses no problem for the young woman at all save for the degree of challenge it poses for her.
External Link
Edit
References
Ad blocker interference detected!
Wikia is a free-to-use site that makes money from advertising. We have a modified experience for viewers using ad blockers

Wikia is not accessible if you've made further modifications. Remove the custom ad blocker rule(s) and the page will load as expected.