Bayushi Kuemon killed Matsu Shamate, his former Bayushi lover who had married with a Lion, Matsu Hataki, joining the Matsu. [2] Hataki began a quest to find revenge, and finally met Kuemon in a mountain pass. In 1160 Kuemon was dead before the rest of his companions killed Hataki. The pass was renamed as Shamate Pass and Kuemon's cousin, Bayushi Eitarou told the true history to the Empire. [1]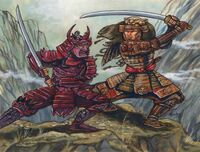 References
Ad blocker interference detected!
Wikia is a free-to-use site that makes money from advertising. We have a modified experience for viewers using ad blockers

Wikia is not accessible if you've made further modifications. Remove the custom ad blocker rule(s) and the page will load as expected.