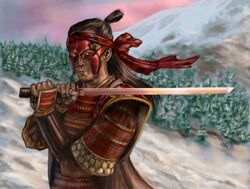 Bayushi Kosugi was a bushi and magistrate of the Scorpion Clan. He was considered a Master of Bushido. [1]
Magistrate
Edit
Kosugi was a magistrate in the Bayushi provinces, and quite successful at his job. He was promoted to Shutai, where he seemed to make a difference against the corruption. [2]
Chief Magistrate
Edit
In 1170 the Emerald Champion Shosuro Jimen appointed Kosugi as the Chief Magistrate for the Imperial City Toshi Ranbo. [2]
Celestial Tournament
Edit
Kasugi competed in the Celestial Tournament held at Seppun Hill to choose the new Emperor, and was defeated by Mirumoto Kei. [3] The tournament was won by Kitsuki Iweko, who became the divine Empress Iweko I. [4]
External Links
Edit
References
Ad blocker interference detected!
Wikia is a free-to-use site that makes money from advertising. We have a modified experience for viewers using ad blockers

Wikia is not accessible if you've made further modifications. Remove the custom ad blocker rule(s) and the page will load as expected.