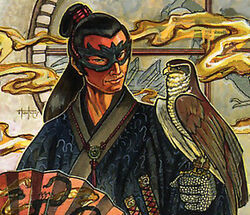 Bayushi Kosaku was a bushi and magistrate of the Scorpion Clan.
Destroyer War
Edit
Kosaku had not been fully trained as a commander, and it was only necessity that placed him as leader of his military forces. [1]
Trap for Destroyers
Edit
In 1172 a group of Destroyers broke away the main army and entered Scorpion territory. Kosaku prepared a trap to destroy the foe, aided by Crab and Crane forces led by Hida Demopen and Doji Shikana. Dragon's Teeths were built underneath the surface of the flooded rice paddies, and the land was laced with oil to be burned with the enemy inside. Crab and Scorpion men would sacrifice to goad the gaijin demons into the trap. [2]
Camp attacked
Edit
The Destroyers attacked at dawn the combined Crab-Scorpion camp. Demopen had roused immediately and began shouting orders to mount a defense. Kosaku had not become ready so quickly and the Scorpion forces lay in disarray for much of the fight. [1]
Gaining ground
Edit
Following the tactics suggested by his advisor Demopen, his forces gained ground to the Destroyers. Kosaku offered the command to the Crab, who he saw as more suited to the post. [1]
External Links
Edit
References
Ad blocker interference detected!
Wikia is a free-to-use site that makes money from advertising. We have a modified experience for viewers using ad blockers

Wikia is not accessible if you've made further modifications. Remove the custom ad blocker rule(s) and the page will load as expected.