Bayushi Kazutoshi was known as The Student, the unnamed student of The Sensei, [1] Yogo Kazunori. [2]
The Student
Edit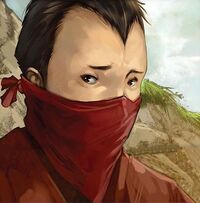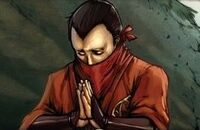 He prayed his mother would guide his hand, giving him the will to be the hand of the Scorpion. [3] He took the name of Bayushi Kazutoshi during his gempukku. [4]
Kazutoshi became a sensei himself. [4]
Meeting the Shadow Dragon
Edit
His student Shosuro Tanihara found the lair of the Shadow Dragon in the Colonies and Kazutoshi was quickly reported about the discovery. [5] During the Siege of the Second City, the Imperial Governor of the Colonies Otomo Suikihime was forced to flee. The Scorpion aided her, and passed Suikihime to the Spider. In exchange, the Spider Clan Champion Daigotsu Kanpeki arranged an audience with the Shadow Dragon for Kazutoshi, who wanted to learn more about the madness that had befallen the Colonies. [2] He had suspected the accursed Shadow Dragon was provoking it. [6]
Meeting Asako Chukage
Edit
Kazutoshi met Asako Chukage in the Second City. The Master of Water had distributed an account of his gatherings, exposing P'an Ku as the driving force behind the plague of madness that afflicted the Colonies. Chukage told him all he knew about the mad dragon, those who had Fallen under its grip, and their enemies of the Fudo cult. [6]
External Links
Edit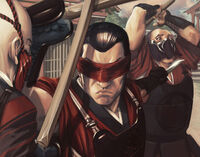 References
Ad blocker interference detected!
Wikia is a free-to-use site that makes money from advertising. We have a modified experience for viewers using ad blockers

Wikia is not accessible if you've made further modifications. Remove the custom ad blocker rule(s) and the page will load as expected.