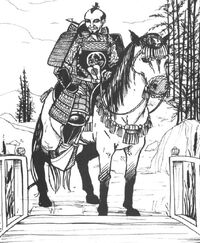 Bayushi Kaseru was a general of the Scorpion Clan.
Demeanor
Edit
Kaseru was a keen and pride man, who hated the Lion Clan for their success over his Clan. Kaseru wished to help the Scorpion to regain the martial integrity that had been stolen from his Clan. [1]
Kenson Gakka
Edit
Slaughter at Yaruki Jukko
Edit
Six centuries ago Kenson Gakka had been seized by the Lion. In 1120 the Scorpion devised a plan which involved the slaughter of the resident monks and their Crane visitors in the nearby temple of Yaruki Jukko, in the hope to exploit the affair to recapture the city from the Lion. [2] It would begin in the day the Lion celebrated the castle was taken, the Festival of the Humble Turtle. [3] The plan was devised by the mastermind Bayushi Sozui. [4]
Shortly after the bloodshed Scorpion forces led by Kaseru arrived to Kenson Gakka, presented the events at the temple, and laying claim to the castle. [5] The castle's lord, Matsu Kioma, refused, and the Battle of the Humble Turtle began. [6] The Scorpion siege was a failure, remaining the castle in Lion's hands. [7]
See also
Edit
References
Ad blocker interference detected!
Wikia is a free-to-use site that makes money from advertising. We have a modified experience for viewers using ad blockers

Wikia is not accessible if you've made further modifications. Remove the custom ad blocker rule(s) and the page will load as expected.