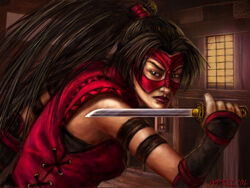 Bayushi Kan was a bushi and ninja of the Scorpion Clan. She attained enlightenment.
Enlightenment
Edit
Kan only wished to serve her lord faithfully and well, and to be permitted to pursue her own interests when time allowed. Perhaps because of the wickedness in which she must engage, Kan sought solace in beauty. Natural beauty, the theater, works of art, poetry; the medium through which she experienced this quiet joy did not matter to Kan. What she truly desired from life, she found in in quiet aesthetic contemplation. [1]
External Links
Edit
References
Ad blocker interference detected!
Wikia is a free-to-use site that makes money from advertising. We have a modified experience for viewers using ad blockers

Wikia is not accessible if you've made further modifications. Remove the custom ad blocker rule(s) and the page will load as expected.