Bayushi Jutsushi was a courtier and Emerald Magistrate of the Scorpion Clan.
Winter Court - 1170
Edit
Jututshu attended Winter court at Kyuden Bayushi in winter 1170-1171. In 1171 Jutsushi aided fellow courtier Bayushi Kurumi in her defense of the Shinjo family. He relayed a tale about how his father, Bayushi Jintoshi was a magistrate tasked with stopping a criminal organization but was having little success. Then, Shinjo Shono came to his aid and with his help, the criminal organization was soon crushed. [1]
Official duties
Edit
Assistant of Kyuden Bayushi's Governor
Edit
Jutsushi assisted Kyuden Bayushi's governor in identifying private relationships between them. Affairs, rivalries, that manner of things. [2]
Paneki's advisor
Edit
The Scorpion Clan Champion Bayushi Paneki was impressed by Jutsushi who had been made responsible for ensuring all was in readiness for his Lord arrival. Paneki appointed him as advisor after winter court at Kyuden Gotei ended. [2]
Hatamoto
Edit
Jutsushi was made Hatamoto of Kyuden Bayushi during the Plague War. In 1172 he attended the Empress' audience representing Paneki, where the Great Clans were given new Imperial Charters. The Crane and Scorpion must maintain the Empire even as it threatened to fall apart, favoring the encouragement of others. [3]
Yojimbo to the Imperial Advisor
Edit
Jutsushi had willingly abandoned his position following Paneki's Disgrace. He agreed to become the Yojimbo of the Imperial Advisor Susumu. [4]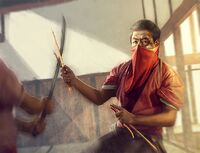 Jutsushi became a sensei during the Age of Conquest, and passed his knowledge to the newest generations. [5]
External Links
Edit
References
Ad blocker interference detected!
Wikia is a free-to-use site that makes money from advertising. We have a modified experience for viewers using ad blockers

Wikia is not accessible if you've made further modifications. Remove the custom ad blocker rule(s) and the page will load as expected.