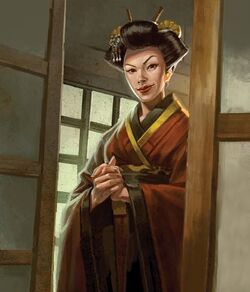 Bayushi Jou was a courtier of the Scorpion Clan.
In 1172 she was an assistant of Shosuro Mizuno. [1] Somehow she knew where Kakita Korihime was, the stepped down Champion of Chugo. Jou visited Korihime. [2]
Turquoise Championship
Edit
In 1173 was held the first Turquoise Championship, which was won by one of the Empress' Guards, Matsu Kasei. Jou was a contender and made an ikebana scene. She developed a variation of the seven branches style, called for the seven Great Clans. She brought a potted tree and in a bonsai branches Jou placed the eight vases, making an arrangement which could be interpreted as a representation of the chrysanthemum. The eight vase represented the Spider Clan, recently elevated to the Great Clan status. Her work was a matter for controversy. [3]
External Links
Edit
References
Ad blocker interference detected!
Wikia is a free-to-use site that makes money from advertising. We have a modified experience for viewers using ad blockers

Wikia is not accessible if you've made further modifications. Remove the custom ad blocker rule(s) and the page will load as expected.