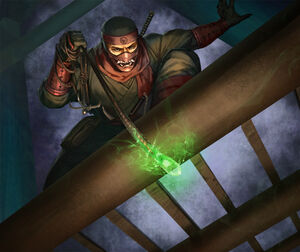 Bayushi Jin-e was a ninja of the Scorpion Clan.
Tsuruchi Longbow Secrets
Edit
In 1200 Yogo Gingo was tasked with stealing the secrets of the Tsuruchi bowyers. Surprisingly the defenders of Kyuden Ashinagabachi were a Scorpion unit, the Dark Sword of Bitter Lies, who had been placed under Mantis command shortly before. Their leader Bayushi Irezu killed Gingo on the spot. Bayushi Jin-e eventually managed to steal the secret of making Tsuruchi Longbows for his clan. [1]
External Links
Edit
References