Bayushi Hisako was a bushi of the Scorpion Clan and student of the Dark Sword of Bitter Lies.
Marriage
Edit
Hisako was the second wife of Bayushi Kwanchai. [1]
Dark Sword
Edit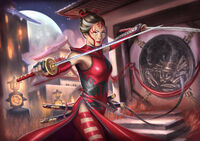 She was surprisingly calm and collected for a Bitter Lies Swordsman. She was also a sensei at the Dark Sword of Bitter Lies Dojo. [1] Under her leadership the dojo gained fame and respect between the Scorpion. [2] She was selected as a sensei of the Honor's Lesson Dojo, which had begun to train the Bitter Lies school. [3]
Test of the Emerald Champion
Edit
Hisako participated in the Test of the Emerald Champion in 1169, where she made it to the semifinals. She notably defeated Akasha in a duel during that contest, where the two women bonded both over their unusual backgrounds and the peculiarity of their respective husbands. [4] Hisako was defeated against Kakita Noritoshi. [5] She was appointed as yojimbo to the new Emerald Champion, Shosuro Jimen. [6]
Pregnancy
Edit
At the time of Kwanchai's death in 1169, Hisako was pregnant by him, expecting a girl. [1] Her daughter, Bayushi Kanihime, would eventually marry the Scorpion Champion Bayushi Nitoshi. [7]
External Links
Edit
References
Ad blocker interference detected!
Wikia is a free-to-use site that makes money from advertising. We have a modified experience for viewers using ad blockers

Wikia is not accessible if you've made further modifications. Remove the custom ad blocker rule(s) and the page will load as expected.