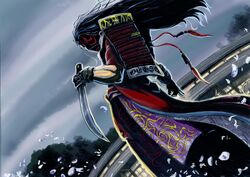 Bayushi Hirose was a bushi and a magistrate of the Scorpion Clan.
Hirose was a member of the Empress' Guard during the reign of Iweko I. [1]
Winter Court - 1172
Edit
During the Winter Court of 1172, Bayushi Hirose prevented the assassination of Bayushi Hisoka, using his red steel blade to impale the attacker from behind. [2] He prayed daily for those who died during the fight, as her companion Akodo Kurogane, or the Protector of the Imperial City Bayushi Norachai. [3]
Destroyer War
Edit
In 1173 during the Destroyer War Hirose participated in the defense of the Fortress of Blackened Sight. While he was fighting a new type of blue hued Destroyers he was contacted by a Goju Ninja, Goju Zeshin. The Shadowspan drew the attention of Hirose to a ward located in the thing's neck. He managed to remove the guard, and the being turned on their kin, attacking them. Hirose recognized a symbol from his father's journals in the Destroyer's hearts, an Ashalan mark. [4]
Tainted Empress' Guard
Edit
After Iweko granted the status of Great Clan to the Spider and exiled all tainted clansmen to the Colonies in the ruined Ivory Kingdoms, Hirose reported his commander Shiba Erena that Gahseng was a tainted member of the Spider Clan. Erena followed Hirose's point of view, and after Gahseng was relieved from his duties and sent along with his tainted brethren, he was replaced by Daigotsu Sahara. [5]
External Links
Edit
References
Ad blocker interference detected!
Wikia is a free-to-use site that makes money from advertising. We have a modified experience for viewers using ad blockers

Wikia is not accessible if you've made further modifications. Remove the custom ad blocker rule(s) and the page will load as expected.