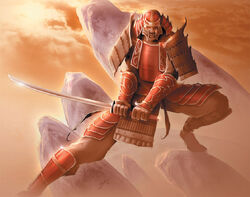 Bayushi Hirono was Shosuro Yasuko's yojimbo. According to Soshi Eiji, he killed just to please her [1].
Following Yasuko
Edit
When Yasuko married Ikoma Otemi in 1159 Hirono followed her, keeping to the shadows to protect his mistress at Otosan Uchi. After the Fall of Otosan Uchi they moved to Kyuden Ikoma. When in 1166 Otemi was appointed at the City of the Rich Frog, in the middle of the War of the Rich Frog, Otemi knew Hirono would keep his wife safe. [2] When Ikoma Korin reached Yasuko with intention to kill her, Hirono stayed in the shadows ready to intervene, which finally was not necessary. [3]
For instance, he killed the Kaeru heir, Meiji, in Kaeru Toshi. While Meiji was enjoying the end of the war in a sake house, he was forced to offer insult to a brash young samurai Meiji did not know, Bayushi Hirono. In the heat of the moment, swords were drawn. Sadly Meiji underestimated Hirono's swordsmanship. It allowed Korin to take over Meiji's post, as wished by Yasuko. [4]
External Links
Edit
References
Ad blocker interference detected!
Wikia is a free-to-use site that makes money from advertising. We have a modified experience for viewers using ad blockers

Wikia is not accessible if you've made further modifications. Remove the custom ad blocker rule(s) and the page will load as expected.