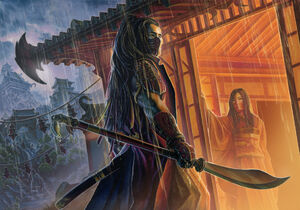 Bayushi Atsuto was a courtier, bushi, and yojimbo of the Scorpion Clan.
Covert Activities
Edit
Atsuto was officially a yojimbo in the Scorpion embassy at Toshi Ranbo, but he was who coordinated many of the clan's activities in the Imperial Court. He returned from the Court, reporting to Soshi Kitaiko that the Otomo had granted the Lion to wage war on the Scorpion. [1]
Winter Court - 1199
Edit
Atsuto was at Toshi Ranbo when the Imperial Winter Court was hold in 1199. During the courtly event known as the Devil's Chase, a traditional ending to the Winter Court, in which a procession of priests was led through the Palace by the Devil Chaser, a priest bearing ancient artifacts and performing ceremonial song and dance, Iweko Miaka's yojimbo, Seppun Asagako, revealed to be an oni. The oni rampaged through the city, starting in the Senzai District, and then moved on to the Kurai District, killing Moshi Durucho and defeating Bayushi Atsuto. The Scorpion had survived in way best described as miraculous. The demon of Jigoku was eventually destroyed in front of the Temple of the Seven Fortunes. [2] The square where the oni died was planted with trees commemorating those who fell in the rampage, the Grove of Darkness Denied. [3]
External Links
Edit
References
↑ The Atlas of Rokugan, p. 287
Ad blocker interference detected!
Wikia is a free-to-use site that makes money from advertising. We have a modified experience for viewers using ad blockers

Wikia is not accessible if you've made further modifications. Remove the custom ad blocker rule(s) and the page will load as expected.