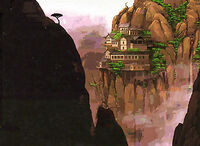 Bayushi's Shrine was built to honor the Kami Bayushi.
Paneki's Disgrace
Edit
In 1172, during the Plague War, the Scorpion Clan Champion Bayushi Paneki, who had been infected with an illness began to make arrangements for his seppuku. He commited seppuku in the shrine, with Bayushi Shinobu as his second. After performing the three cuts, however, Paneki's body rose as an undead and killed the entire retinue who had followed him there, including Shinobu. The temple was burned. [1] The creature became known as Paneki's Disgrace. [2]
External Links
Edit
References
Ad blocker interference detected!
Wikia is a free-to-use site that makes money from advertising. We have a modified experience for viewers using ad blockers

Wikia is not accessible if you've made further modifications. Remove the custom ad blocker rule(s) and the page will load as expected.