The Battlefield of Shallow Graves was a clash during the Clan War between forces of the Dragon Clan and the Crab Clan and their allies from the Shadowlands. Eventually, the spirits of the dead began returning to the battlefield and attacking both sides indiscriminately. A brief alliance was brokered and working together the dead were defeated. The two forces parted without further bloodshed. [1]
External Links
Edit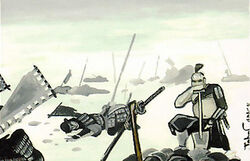 References
Ad blocker interference detected!
Wikia is a free-to-use site that makes money from advertising. We have a modified experience for viewers using ad blockers

Wikia is not accessible if you've made further modifications. Remove the custom ad blocker rule(s) and the page will load as expected.