Battle Lines is a fiction written by Nancy Sauer and edited by Fred Wan. It was first released on the Alderac Forums on the 9th of December 2006. [2].
Annotated Story
Edit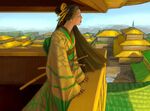 It opens in Toshi Ranbo wo Shien Shite Reigisaho on the Empress Toturi Kurako reminiscing about her childhood. She is joined by the Imperial Advisor Doji Tanitsu. Kurako expresses her wish to reinstate the position of Protector of the Imperial City. Tanitsu voices his concern that it could be seen as a move against the Shogun, but Kurako insists it be done.
Somewhere else in Toshi Ranbo, Doji Nagori is walking when he meets Shosuro Higatsuku. Higatsuku congratulates Nagori on recieving Kakita's Sword, and frequently tries to subtlety point out that Nagori has no skill with the blade. Nagori, turns Higatsuku's words against him, and makes Higastuku look the fool.
In the Doji Estate in Toshi Ranbo, Kakita Munemori is approached by Bayushi Adachi. Adachi gives Munemori information regarding the Shogun's troops which is a gift from her Clan Champion to his.
Elsewhere in Toshi Ranbo, Bayushi Kaukatsu is meeting with Shosuro Jimen. Jimen is inquiring as to why Kaukatsu made Higatsuku confront Nagori. Kaukatsu revealed it was a ploy to occupy the attentions of the Empress, by making the Shogun appear her opposition.
Characters
Edit
Not Present, But Mentioned
Edit
Kurako's grandfather (not named)
Relevant Tournament Results
Edit
Unknown.
Ad blocker interference detected!
Wikia is a free-to-use site that makes money from advertising. We have a modified experience for viewers using ad blockers

Wikia is not accessible if you've made further modifications. Remove the custom ad blocker rule(s) and the page will load as expected.