Battering Ram were huge trees hefted by a dozen men until tacticians and Siege Master began implementing stronger types of wood and strong heads to tear down wooden gates. Turtle shell devices hovered over the ram bearers, protecting them from harm. Later improvements led to the ohitsuji design. [1]
External Links
Edit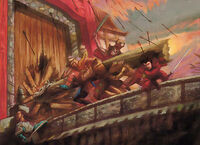 References
↑ Complete Exotic Arms Guide, p. 45
Ad blocker interference detected!
Wikia is a free-to-use site that makes money from advertising. We have a modified experience for viewers using ad blockers

Wikia is not accessible if you've made further modifications. Remove the custom ad blocker rule(s) and the page will load as expected.