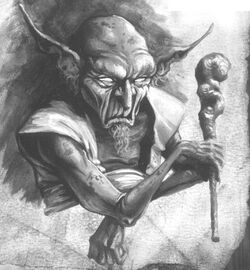 Basher was a quite special goblin as he was born with intelligence - a rarity amongst the bakemono. Realizing quickly that his species was such a self-destructive one, he decided to leave the tribe and roamed the Shadowlands on his own for a long time. [1]
Big Stink
Edit
He ended up in the Big Stink, the city of goblins, and was revered there as a sage. Seeking intelligent conversation Basher came to meet Kuni Mokuna when he was around twenty five years old, which was quite a venerable age among this species. He came back quite a few times, and it was said that Mokuna bargained the corpse of Basher from the goblins of Big Stink after his death, and enshrined it. [1]
Trademark Club
Edit
Basher was named after his club which he carried at all times. He would often assault his own fellow goblins for no apparent reason, their stupity annoying him more often than not. [1]
Basher's Legacy
Edit
Basher had gleaned insight into human society, as well as the underlying logic behind such concepts as "money" and government." Basher had imparted these lessons to the goblins in Big Stink, hoping that his race could grow beyond Fu Leng's initial vision. He fathered as many progeny as he possibly could, to grant his race with more goblins like himself for the race to advance. He also passed to his children the importance of breeding the strongest, smartest, and most attractive, by goblin standards, progeny. [2]
Descendants
Edit
Basher's descendants took over an entire wing of Big Stink, and were even clever enough to hide from the goblins from the Deep Shadowlands when they came to destroy the pseudo-city. Basher's heirs returned and carved their own home out of the ruins. [2]
See Also
Edit
References
Ad blocker interference detected!
Wikia is a free-to-use site that makes money from advertising. We have a modified experience for viewers using ad blockers

Wikia is not accessible if you've made further modifications. Remove the custom ad blocker rule(s) and the page will load as expected.