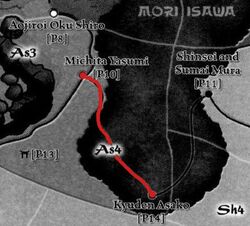 Barefoot Walk was the road that connected Hopeful Rest City (P10) to Kyuden Asako (P14). This carefully-maintained road was the most direct route to Kyuden Asako from the major outer Phoenix cities. However, it was not heavily traveled, as the Asako do not often invite outsiders into their castle, and thus was poorly watched. [1]
It was the path Asako herself journeyed alone for a month to find the perfect location for her family's home. Eventually her simple sandals wore down to nothing and Asako was forced to continue through Mori Isawa barefoot until she came upon the place where Kyuden Asako would be built. [1]
References
Ad blocker interference detected!
Wikia is a free-to-use site that makes money from advertising. We have a modified experience for viewers using ad blockers

Wikia is not accessible if you've made further modifications. Remove the custom ad blocker rule(s) and the page will load as expected.