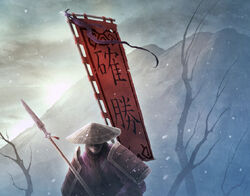 Ban were the Rokugani flags which flied over buildings showing who was the leader inside them. The Imperial bans beared the Imperial mon, followed by the mon of the Clan and family hosting the Emperor. [1]
See also
Edit
External Links
Edit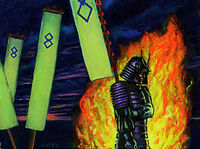 References
↑ Winter Court: Kyuden Seppun, pp. 57-58
Ad blocker interference detected!
Wikia is a free-to-use site that makes money from advertising. We have a modified experience for viewers using ad blockers

Wikia is not accessible if you've made further modifications. Remove the custom ad blocker rule(s) and the page will load as expected.