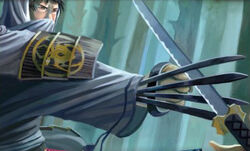 Bagh-nakh was a cruel weapon based on the design of a tiger's claws, a pair of rings, worn over the forefinger and pinky finger, between which laid razor-sharp claws, which were hidden in the palm until moment of the strike. Bagh-nakh was first introduced in the Ivory Kingdoms by the Qolat. [1]
External Links
Edit
References
↑ Complete Exotic Arms Guide, p. 72
Ad blocker interference detected!
Wikia is a free-to-use site that makes money from advertising. We have a modified experience for viewers using ad blockers

Wikia is not accessible if you've made further modifications. Remove the custom ad blocker rule(s) and the page will load as expected.