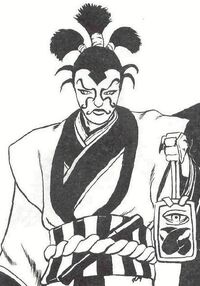 The Badge of the Witch Hunters was a jade seal carried by the Kuni Witch Hunters as a mark of their station. It was a combination of the crossed claws of the Kuni family mon, representing the ever-present defense offered by the tsukai-sagasu, and the open eye of the Asako Inquisitors, symbol of the eternal vigilance of their allies, the Inquisitors. [1]
References
↑ Way of the Shadowlands, p. 31
Ad blocker interference detected!
Wikia is a free-to-use site that makes money from advertising. We have a modified experience for viewers using ad blockers

Wikia is not accessible if you've made further modifications. Remove the custom ad blocker rule(s) and the page will load as expected.