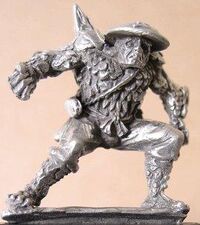 Avalanche Guard, the First Phoenix Legion of the Shiba Army, [1] was an Elemental Guard unit composed by shugenja who studied earth magic [2] who did not mind delving into combat to perform their duties. [3] This legion of shugenja was attended by the Shiba Second Phoenix Legion, the Legion of Stone, who were specially trained to interact with that legion. [1]
Appearance
Edit
With their skin toughened through the surges of magic, they appeared to be a company of rock-men. It was said that their wounds bleeded mortar and volcanic embers. [4] The commander of the Avalanche Guard usually wore Ouno's Heart, a suit of Heavy Armor crafted by Isawa Ouno, the first Master of Earth and brother to Isawa himself. [5]
War Against Shadow
Edit
The Avalanche Guard was part of the Empire armies that marched to Volturnum in the Battle of Oblivion's Gate. [6]
Toshi Ranbo
Edit
The Shiba Army stopped the Battle of Toshi Ranbo in 1169, occupying the city to protect it and maintain the order. [7] [8]
Known Members
Edit
See also
Edit
References
Ad blocker interference detected!
Wikia is a free-to-use site that makes money from advertising. We have a modified experience for viewers using ad blockers

Wikia is not accessible if you've made further modifications. Remove the custom ad blocker rule(s) and the page will load as expected.