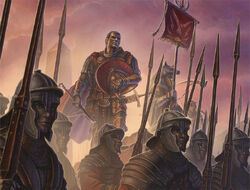 Aulus was a Yodotai Legionnaire under the command of Praefectus Legulus. [1] The majority of the troops under his command had not been born Yodotai, but were trained into Yodotai customs. [2]
Ki-Rin's Path
Edit
In 1198 Legulus returned to Rokugan as commander of the Yodotai raiders that harassed the Unicorn in the Ki-Rin's Path, the road that connected Rokugan with the Ivory Kingdoms. The Rokugani began to scour their encampent, which was hidden in the Sand Sea, an impassable region in the Western Wastes. [3] Many beast had been locked away with wards by the Cult of Ruhmal during the Destroyer War. Legulus removed the guards, to use them as weapons against the Rokugani. [4]
External Links
Edit
References
Ad blocker interference detected!
Wikia is a free-to-use site that makes money from advertising. We have a modified experience for viewers using ad blockers

Wikia is not accessible if you've made further modifications. Remove the custom ad blocker rule(s) and the page will load as expected.