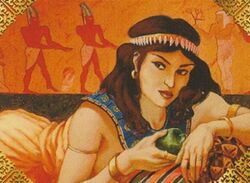 Medinaat al-Salaam
Edit
Asori was part of the Senpet delegation at Medinaat al-Salaam, alongside wuth the General Abresax, commander of the Senpet guard in the city. The Immortal Caliph Hanan Talibah had made an alliance with the Queen Hensatti, due to scarcity of water in the Empire of the Scarab. The queen personally requested that Asori attend to the fledgling alliance between the Senpet and the Khadi. [1]
Asori was visited by the Caliph's spokesmen, Ghiyath, who enter through the window over a Flying Carpet guided by Al-Hazaad. He ordered Asori to assemble Abresax and his commanders, because the Caliph had orders for them. Keseth appeared and told about the newcomers Abresax had enslaved to work in the mines, and specially about a woman who he called as the Selqet. [1]
Keseth disappears
Edit
This night Keseth disappeared from his chambers, and Asori saw several bunched strands of brilliantly colored cloth, [1] similar to the clothes used by the khadi Ghiyath. [1]
Derision
Edit
Selqet was able to speak the native tongue with a Cat of Many Tongues, [2] and Asori began to despise her activities. Asori suffered her sharp tongue and prepared arguments. The courtesan waited the moment her competitor would be dead. [3]
External Links
Edit
Asori (Shadow of the Tyrant)
References
Ad blocker interference detected!
Wikia is a free-to-use site that makes money from advertising. We have a modified experience for viewers using ad blockers

Wikia is not accessible if you've made further modifications. Remove the custom ad blocker rule(s) and the page will load as expected.