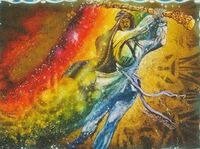 Ashim's Rainbow Shield was a Mastery 3 water spell which summoned a flickering multicolored barrier of light that surrounded the caster and extended outward, providing protection against several different kinds of attacks. It was learned by the Iuchi Shugenja from their time in the Burning Sands. [1] The spell had been developed by the sahir Ashim. [2]
External Links
Edit
References
Ad blocker interference detected!
Wikia is a free-to-use site that makes money from advertising. We have a modified experience for viewers using ad blockers

Wikia is not accessible if you've made further modifications. Remove the custom ad blocker rule(s) and the page will load as expected.