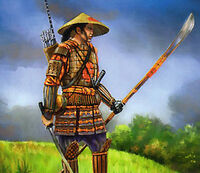 Ashigaru Armor was light, flexible and cheap to make. It was issued to peasant soldiers, or ashigaru, in samurai armies. [1] It was the most common form of armor in Rokugan. [2]
Some samurai would consider wear ashigaru armor if a mission required them to travel light and fast, such as scouting, and Ronin were also noted for commonly using ashigaru armor because of it's availability and low cost. [2] [3]
Appearance
Edit
Typical Ashigaru armor would consist of metal plates laced or sewn onto cloth that covered the torso, arms, legs. [1] and the conical helmet known as a jingasa. [4] Sometimes bamboo was also used. [citation needed]
Ashigaru armor was usually worn by spearmen in samurai armies. [citation needed]
External Links
Edit
References
↑ Legend of the Five Rings; Fourth Edition, p. 198
↑ Book of Earth, p. 25
Ad blocker interference detected!
Wikia is a free-to-use site that makes money from advertising. We have a modified experience for viewers using ad blockers

Wikia is not accessible if you've made further modifications. Remove the custom ad blocker rule(s) and the page will load as expected.