RPG Information
Edit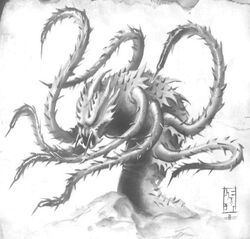 Statistics
Edit
Air 3
Earth 3
Fire 5
Water 4
Attack
5k5
Damage
1k1 plus poison
Armor
6
TN to be Hit
15
Wounds
20: -1
40: -2
60: Dead
Special ability
Edit
Fear 3
Ashi no Oni can attack with its tentacles all the enemies who surrounded it, throwing poisonous thorns. The poison reduced the attributes of the target.
Major References
Edit
Ad blocker interference detected!
Wikia is a free-to-use site that makes money from advertising. We have a modified experience for viewers using ad blockers

Wikia is not accessible if you've made further modifications. Remove the custom ad blocker rule(s) and the page will load as expected.