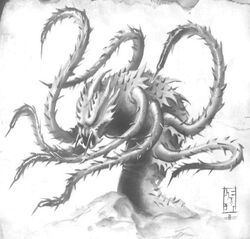 Ashi no Oni were oni commonly found in the deserts and canyons of the Shadowlands, lurking in caves or hidden under the shifting sands. Their bodies were grub-like, armored with a tough and leathery skin. They had multiple tentacles adorned with spikes sprouting everywhere on their sides. The darts at the end of their arms containted a dangerous poison and could be thrown by the beast at approximately a 15 feet distance. Only fully armored samurai could hope to deflect those darts. This type of oni was vulnerable to magic and its tentacles could be easily cut. [1] Ashi no Oni were highly intelligent and often used every available means to put their prey in a disadvantageous position. They were solitary and territorial creatures. Over time, the oni's coloring changed to match its home, each of them adapted to its unique environment. [2]
See Also
Edit
References
Ad blocker interference detected!
Wikia is a free-to-use site that makes money from advertising. We have a modified experience for viewers using ad blockers

Wikia is not accessible if you've made further modifications. Remove the custom ad blocker rule(s) and the page will load as expected.