Ashi was a nezumi of the Tattered Ear Tribe.
Ashi was the ninth pup of Hiruma Rik'tik'tichek. [1]
In 1168 the

attacked the Tattered Ear. In retaliation the tribe attacked their patrols, left undefended the Naga city of Kalpa. The Naga race felt not guarded in their Great Sleep, and Qolsa was awaken. When the Constrictor saw nezumi near him, he attacked and killed three of them, before the Zamalash appeared and explained Qolsa his mistake. Ashi was one of the three. [2]
External Links
Edit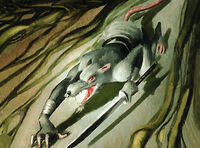 References
Ad blocker interference detected!
Wikia is a free-to-use site that makes money from advertising. We have a modified experience for viewers using ad blockers

Wikia is not accessible if you've made further modifications. Remove the custom ad blocker rule(s) and the page will load as expected.