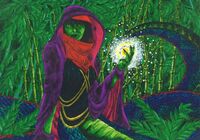 After the first Great Sleep the Ashan was awaken by the Shashakar. She felt their sleep had been long, yet she realized her race had returned too soon. The humans had unleashed the Foul and the naga had to save Rokugan from the danger. [1]
External Links
Edit
References
↑ Player's Guide: 2nd Ed, pp. 65-66
Ad blocker interference detected!
Wikia is a free-to-use site that makes money from advertising. We have a modified experience for viewers using ad blockers

Wikia is not accessible if you've made further modifications. Remove the custom ad blocker rule(s) and the page will load as expected.