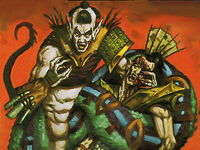 Ashamana was any naga youth. [1] Because the unique connection that all naga had through the Akasha, naga youth were able to in many ways 'become' fallen naga heroes. This allowed generations of naga leadership and experience to manifest itself directly in the present time. [2]
See also
Edit
External Links
Edit
References
Ad blocker interference detected!
Wikia is a free-to-use site that makes money from advertising. We have a modified experience for viewers using ad blockers

Wikia is not accessible if you've made further modifications. Remove the custom ad blocker rule(s) and the page will load as expected.