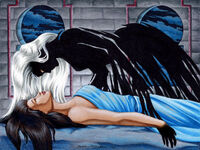 Ashalla was an Ebonite Sahir and member of the Celestial Alliance.
Adnan and San'a
Edit
Adnan, the Robber, came to Ashalla seeking aid an guidance. His sister San'a, who was still a child, had been forced to pass the Ceremony of the Hidden Heart, becoming a Khadi. Ashalla told San'a could be recovered, but she would had changed forever, San'a would be never the same as before the ritual. [1]
Celestial Alliance
Edit
Ashalla decided to join the Celestial Alliance to fight the Jinn Lord Kaleel and his legion at Medinaat al-Salaam. [2]
Celebration
Edit
After the Awakening he was in the wedding celebration between Sahalah, daughter of the murdered Sultan, and Saqr al Fediq, a jinn Sahir who had taken human form. [2]
External Links
Edit
Ashalla (LBS - Black Hand, Black Heart)
References
Ad blocker interference detected!
Wikia is a free-to-use site that makes money from advertising. We have a modified experience for viewers using ad blockers

Wikia is not accessible if you've made further modifications. Remove the custom ad blocker rule(s) and the page will load as expected.