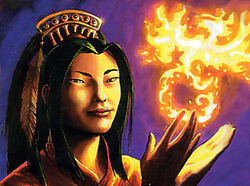 Asako Yuya was a Shugenja of the Phoenix Clan.
Fall of Otosan Uchi
Edit
In 1159 Yuya fought against goblins summoning an electric warrior in the Trading Grounds market during the Fall of Otosan Uchi. [1]
Asako Bairei's Assistant
Edit
Yuya was the assistant to Asako Bairei and his True Friend. [2] [3] Isawa Nakamuro suspected Bairei would have died from starvation in his library long ago were it not for Yuya. [4]
External Links
Edit
References