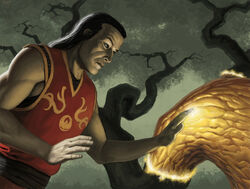 Asako Rikate, the Riddle, [1] was a tainted earth monk and henshin of the Phoenix Clan. He became the favored of the Earth Dragon. [2]
Rikate had been born with the touch of Jigoku, yet he had not succumbed to its effects. He was among the last of those who bore the burdens of the Shadowlands against his will. Rikate realized it after an earth kami formed a jade spell that scorched him. [1]
Membership
Edit
Rikate was member of the Order of the Golden Arm, and in secret a member of the Blood of Kinuye. [3]
Favored of the Earth Dragon
Edit
Rikate struggled against the jealous touch of the Shadowlands, and pondered what have he became. He was found worthy by the Earth Dragon, who sent his blessings to the monk. The never-ending dark whispers in the back of his mind stopped. [1]
External Links
Edit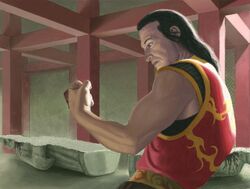 References
Ad blocker interference detected!
Wikia is a free-to-use site that makes money from advertising. We have a modified experience for viewers using ad blockers

Wikia is not accessible if you've made further modifications. Remove the custom ad blocker rule(s) and the page will load as expected.