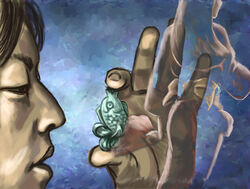 Asako Mokichi was an earth shugenja, inquisitor and magistrate of the Phoenix Clan.
Training
Edit
Mokichi was a gifted shugenja that used the gifts to aid the causes by asking the earth kami to not share the strenght of earth to fortify the strenght of her enemies. [citation needed]
Destroyer War
Edit
Mokichi was tasked to find the Ebon Daughter, who was depicted as a woman, tall, elegant, and garbed in red. [1]
External Links
Edit
References
Ad blocker interference detected!
Wikia is a free-to-use site that makes money from advertising. We have a modified experience for viewers using ad blockers

Wikia is not accessible if you've made further modifications. Remove the custom ad blocker rule(s) and the page will load as expected.