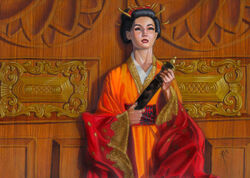 Asako Misako was a courtier of the Phoenix Clan.
Demeanor
Edit
Asako Misako was a very skillful courtier of the Phoenix Clan that understood the ways of the Council of Masters and the ways of the Imperial Court like few do. Her times with the Shugenja had taught her to aid them in there efforts in defending the temples of the Empire and the Clan even if she chose to use to do so away from the battlefield. [citation needed]
Misako was cousin of Asako Kanta. [1]
Imperial Court
Edit
A mysterious statuary appeared in the Imperial Court. It was clearly made by a Crab anonimous artisan. The piece of stone depicted despair and anger, joy and sorrow and even love. It raised the spirits of those who saw it in such dreadful time during the Destroyer War. [1]
External Links
Edit
References
Ad blocker interference detected!
Wikia is a free-to-use site that makes money from advertising. We have a modified experience for viewers using ad blockers

Wikia is not accessible if you've made further modifications. Remove the custom ad blocker rule(s) and the page will load as expected.