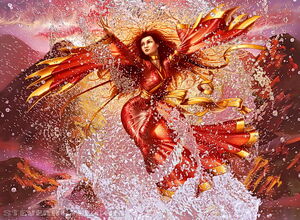 Asako Meisuru was a shugenja and healer of the Phoenix Clan.
Meisuru used potions and herbs were on illness that the kami could not heal. [1]
Winter Court - 1168
Edit
In 1168 Shara and Yasuki Miliko came to Winter Court at Kyuden Otomo to make marriage arrangements with the Doji family. [2] She had a torrid romance with his fellow Emerald Magistrate Doji Asuki, which had sparked rumors that they might soon marry. [3]
Hunting Kokujin
Edit
Hida Shara became aware of the threat posed to the Empire by Kokujin, the Prophet of the Dark Lotus. She assembled a "strike team" with the goal of first seeking the advice of Togashi Mitsu, the Oracle of Thunder, and then hunting down and destroying the Dark Prophet. Besides herself, the other planned members of the "strike team" included Hiruma Todori, Hitomi Vedau, and Meisuru. [4]
Winter Court - 1169
Edit
She spent Winter Court in winter 1169-1170 at Kyuden Asako, where her skills as a healer were needed when an illness spread throughout it's occupants. Among those afflicted was Moshi Minami, who was very grateful for Meisuru's aid. [1]
External Links
Edit
References
Ad blocker interference detected!
Wikia is a free-to-use site that makes money from advertising. We have a modified experience for viewers using ad blockers

Wikia is not accessible if you've made further modifications. Remove the custom ad blocker rule(s) and the page will load as expected.