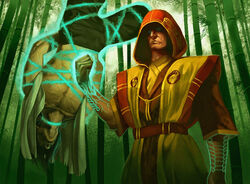 Asako Jirou was an Air shugenja Inquisitor and Magistrate of the Phoenix Clan.
Between the Walls of Kyuden Kankei
Edit
In 1198 Jirou was sent to investigate what was behind the destruction of the left wing of Kyuden Kankei, the Nasu family estates. Shiba Fukada, who had burnt the castle and died in the fire, had hidden his gatherings about activities of remnants of the minions of the Lying Darkness between the walls of the castle. The inquisitors found the account, but no trace of what Shiba Fukada described in his letters. The original blueprints of the castle claimed that the walls of Kyuden Kankei consisted of simple paper and wooden framework, being entirely modular and collapsable within the tracks separating each room. The pathways described in the account therefore could not had existed; there was no simply space for them between the walls. [1]
Colonies
Edit
The Asako found the sudden fascination with the teachings of Fudo in the Colonies disturbing, and they guessed the gaijin ruins could only be home to further blasphemies. In 1198 Jirou and Asako Rinshi came to the presence of Tsuruchi Tomaru, hatamoto of Rikugunshokan Yoritomo Emoto, to denounce their allies in the Crane and lie to the Mantis. Tomaru accepted the presence of Asako observers, to report back to the Empire and Colonies a neutral accounting of the Mantis-Crane War in the Colonies. It gave access to the remote holdings of those clans, allowing the Phoenix to find and study hidden supernatural dangers of the Ivory Kingdoms. [2]
Journey to the Empire
Edit
At Twin Forks City Jirou was met by Asako Chukage, who explained there was some dark force at work in the Colonies, and that such a thing touched his mind. The last host of Chukage from his previous trip, Moshi Sasako, unexpectedly had gone missing. The Master of Water had written a report intended for his fellow masters, and Jirou had to take it back to the Empire. Both Phoenix did not notice that the personal scribe of Chukage, Oku, had passed the Inquisitor a forgery, keeping the original papers for himself. [3]
Hostage to the Crab
Edit
Jirou was set out to investigate a ruin that appeared mysteriously where none had stood before, all located within lands claimed by the Phoenix during the Governor's permitted period of annexation. There he had found agents of the Crab who held maps which indicated the territory belonged instead that the Crab. Kaiu Fumiko, the lead officer, claimed that Jirou was a spy, and taken him into the clan's custody. [4]
External Links
Edit
References
Ad blocker interference detected!
Wikia is a free-to-use site that makes money from advertising. We have a modified experience for viewers using ad blockers

Wikia is not accessible if you've made further modifications. Remove the custom ad blocker rule(s) and the page will load as expected.