Asako Izuna was an air shugenja, magistrate, courtier, and inquisitor of the Phoenix Clan. She was considered a villain.
Jeweled Champion
Edit
In 1198, Izuna was the Amethyst Champion, she saw herself as the represent of the interest of the Imperial families in those courts where the Imperial families cannot be present. As such, she went to the Broken Wave City to meet the Mantis magistrate Yoritomo Hama in order to break a love affair between the poet Yoritomo Toritsuko and a Crane men, promised to the Otomo family. She suggested that Toritsuko was responsible for leaking information to pirates, in order for the Mantis to take care of the situation. [1] As Amethyst Champion she attended the Imperial Court, and met other relevant samurai, as Yasuki Tsujiken, the Favored of the Void Dragon. [2]
New Amethyst Champion
Edit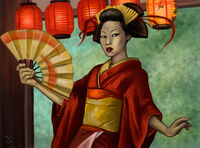 Izuna's duties as Inquisitor required her to abdicate. With the invaluable tutelage of Izuna's advisor Utaku Tairu, the young and inexperienced magistrate Yoritomo Minori took the position amid much controversy. [3]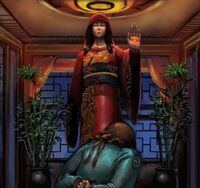 Izuna became a sensei, passing her knowledge to the new generations. [4]
External Links
Edit
References
Ad blocker interference detected!
Wikia is a free-to-use site that makes money from advertising. We have a modified experience for viewers using ad blockers

Wikia is not accessible if you've made further modifications. Remove the custom ad blocker rule(s) and the page will load as expected.