Asahina Ekei was an artisan shugenja of the Crane Clan.
Manipulating Asahina Ekei
Edit
In 1169 Suzume Chiaki met with Ekei, whom she had invited to investigate the singing winds that were heard in the area. During his visit to Suzume Hills, Asahina Ekei managed to save a mine from collapsing. Unknown to him, the accident was actually caused by Chiaki in order to manipulate him into saving the Sparrow. Thanks to her interactions with Ekei, Chiaki was able to procure some invitations to attend Winter Court at Kyuden Otomo, which she then delivered to Daigotsu through Chuda Kyuwa. [1]
External Links
Edit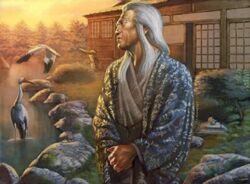 References