Asahina Barako was a Shugenja of the Crane Clan.
Demeanor
Edit
Barako was one of these rare militant on the peaceful Asahina, and she advocated the family's resources had to fight the Shadowlands. It was said that Asahina Daimyo Asahina Sekawa had condemmed her outlook as too extreme. [1]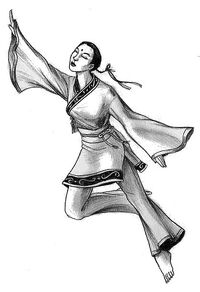 Barako changed dramaticcally, she recanted her violent ways and took up the Tao with new fervor. She was selected to manage Shiro Hanamidoki in 1164. Barako taught her students the power of peace and goodwill. [1]
Asahina Peaceful Ways
Edit
Daidoji Itoru carried a message from Daidoji Daimyo Daidoji Kikaze to sensei Barako. He was rebuked by her, who delayed the delivery of the message until Itoru could find a place to store his daisho. Barako considered an insult to bring blades to the sacred grounds of the Asahina. [2]
Topaz Championship
Edit
In 1165 Barako was at Tsuma to officiate over some of the rituals of the Topaz Championship who was finally won by Doji Domotai. [3]
External Links
Edit
References
Ad blocker interference detected!
Wikia is a free-to-use site that makes money from advertising. We have a modified experience for viewers using ad blockers

Wikia is not accessible if you've made further modifications. Remove the custom ad blocker rule(s) and the page will load as expected.