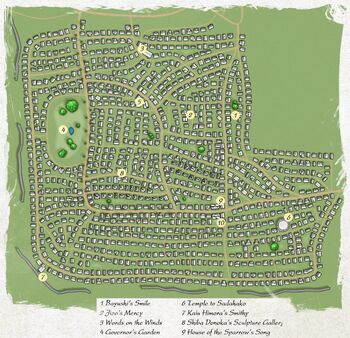 The Artisan District, adjoining the southwest of the Imperial District in the Second City, [1] was the most beautiful district of the city, with tree-lined boulevards, numerous gardens, and abundant decorations. It housed artisan alongside with places for amusement as theaters. [2] The district also housed the city's Licensed Quarter, [3] denoted with red lanterns while the theaters were lit with yellow or gold. [4]
Creation
Edit
The district was not part of the city's original plans, as it not served an important function. But within the very first year, the samurai of the city arranged to bring the art and culture of Rokugan into the city, so artisans and entertainers became new residents in the open space between the Peasant and Merchant Districts. [5]
Dark Naga Assault
Edit
In 1199 Dark Naga forces assaulted the city, and the Sleepless One led the serpents against the Artisan District. [6]
Notable Locations
Edit
External Links
Edit
References
Ad blocker interference detected!
Wikia is a free-to-use site that makes money from advertising. We have a modified experience for viewers using ad blockers

Wikia is not accessible if you've made further modifications. Remove the custom ad blocker rule(s) and the page will load as expected.