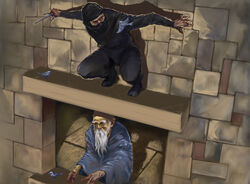 Art of Ninjutsu was a water kata performed by the Daigotsu Bushi, Bayushi Bushi, Daidoji Scout, Shosuro Actor, Shosuro Infiltrator, and Goju Ninja schools. It taught to move as the flow of the water, reaching unnatural distances in an instant. [1]
External Links
Edit
References
Ad blocker interference detected!
Wikia is a free-to-use site that makes money from advertising. We have a modified experience for viewers using ad blockers

Wikia is not accessible if you've made further modifications. Remove the custom ad blocker rule(s) and the page will load as expected.