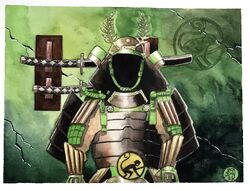 The Armor of the Monkey Clan, crafted by Imperial order, were a dozen suits of armor forged as gifts from the Great Clans for the newly formed Monkey Clan, in the custody of the twelve most important members of the Clan. They were displayed as in the Vigilant Keep of the Monkey, and occasionally worn into battle or used when the clan needs to emphasize its authority as Imperial Magistrates. [1]
External Links
Edit
References
↑ Fealty and Freedom, p. 63
Ad blocker interference detected!
Wikia is a free-to-use site that makes money from advertising. We have a modified experience for viewers using ad blockers

Wikia is not accessible if you've made further modifications. Remove the custom ad blocker rule(s) and the page will load as expected.