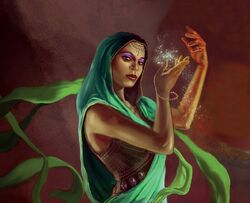 Arjuna Singh was a gaijin Kshatriya of the Mantis Clan.
In 1171 the Empress Iweko I used the Mantis Kshatriya, Yoritomo Singh and Arjuna Singh, to know on the Ivory Kingdoms, connected to Kali-Ma, during the Destroyer War. They had to travel to Toshi Ranbo, and remain to her disposal. The Emerald Champion Shosuro Jimen saw a risk too high for the Empress' honor to have contacts with gaijins, so he tried to bar their movements. Yoritomo Utemaro circumvented the Emerald Champion's operative sailing onboard a Crab ship alongside with the Crab Clan Champion Hida Reiha and Moshi Kekiesu. Arjuna still did not know the rokugani language. [1]
In 1172 an outbreak of Plague in the Mantis mainland provinces was dealt by the Storm Riders. Tsuruchi Gidayu, a wealthy merchant patron, expended vast amounts of personal resources to acquire the additional supplies necessary to comfort those affected. Arjuna Singh utilized Gidayu's resources to create herbal concoctions that did not cure the plague, but alleviated the symptoms. The mortality rate in this outbreak was remarkably low. [2]
External Links
Edit
References
Ad blocker interference detected!
Wikia is a free-to-use site that makes money from advertising. We have a modified experience for viewers using ad blockers

Wikia is not accessible if you've made further modifications. Remove the custom ad blocker rule(s) and the page will load as expected.