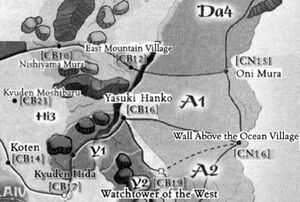 The Anshin province (A1) was a Crane province of the Asahina family situated between the Wall Above the Ocean mountains and the ocean Yakamo's Heart. [1] It was the largest and most prosperous of the Asahina lands in terms of agricultural wealth. [2]
The province was bordered by the Ichigun province (Da4) to the North, Yakamo's Heart to the East, Wakiaiai province (A2) to the South, and the Crab lands to the West. [1]
Holdings
Edit
The province contained the Wall Above the Ocean Village, Oni Mura, [1] the Daidoji holding of Zenshou Tetsu, [3] and the Heaven's Wisdom Temple. [4]
References
↑ The Atlas of Rokugan, p. 38
↑ Hidden Emperor, p. 61
↑ The Atlas of Rokugan, p. 37
Ad blocker interference detected!
Wikia is a free-to-use site that makes money from advertising. We have a modified experience for viewers using ad blockers

Wikia is not accessible if you've made further modifications. Remove the custom ad blocker rule(s) and the page will load as expected.