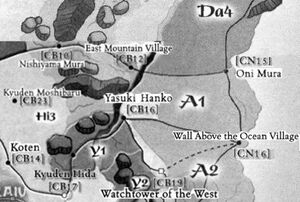 The Anshin province (A1) was a Crane province of the Asahina family situated between the Wall Above the Ocean mountains and the ocean Yakamo's Heart. [1]
The province was bordered by the Ichigun province (Da4) to the North, Yakamo's Heart to the East, Wakiaiai province (A2) to the South, and the Crab lands to the West. [1]
Holdings
Edit
The province contained the Wall Above the Ocean Village, Oni Mura, [1] Zenshou Tetsu, [2] and the Heaven's Wisdom Temple. [citation needed]
References