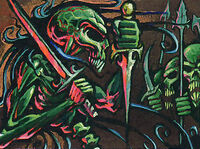 Animate the Dead was a Mastery 3 maho spell which allowed for the re-animation of the remains of a sentient being. The corpse would become a Shadowlands undead, or in the case of older corpses a skeleton. The creature would have it's face covered in a porcelain mask, which mysteriously appeared from nowhere. The creatures animated by this spell were normally slow and quite weak, but served their master without thought. [1] They remained animated for one month, until the mask was removed, or until the dead of the controlling shugenja. [2]
External Links
Edit
References
Ad blocker interference detected!
Wikia is a free-to-use site that makes money from advertising. We have a modified experience for viewers using ad blockers

Wikia is not accessible if you've made further modifications. Remove the custom ad blocker rule(s) and the page will load as expected.